Carluke CDT – Orchard Garden
Jock's Burn Community Garden
Carluke Community Development Trust are delighted with the new orchard garden created at Jock's Burn.  The Trust helped to provide the bench seating, paths, steps and planting of orchard trees.
Blackburn and Seafield Parish Church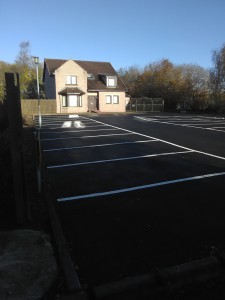 Completed car park
The people of Blackburn and Seafield are delighted with the new car park surface that the Trust helped fund.
Toolbooth Heritage Centre, Lanark
Tolbooth Heritage Centre, Lanark
The Trust helped The Tolbooth Heritage Centre to update its electrical and fire alarm system, formation of exhibition walls and adapable gallery exhibit hanging system installation of disabled access automatic powered opening system to entrance door and disabled toilet facility.
St John the Baptist Church
Before and after
The people of Fauldhouse are delighted with the improvement to the car parking facilities in this much used Chapel car park.  The Church goers and hall users alike are happy that the surface is no longer a hazard.
Braehead Play Park
Braehead Play Park
The people of Braehead are delighted with their refurbished play park which is designed to focus on physical agility and inclusiveness proving activity for all ages and abilities.
Outdoor Learning Centre, Lanark
Outdoor Learning Centre
The Trust were delighted to fund this project, the first funded through the SLCF.  The centre comprises various landscaped learning, meeting, planting and reflection areas and is fully accessible to wheelchair users.